Mathematical Topics: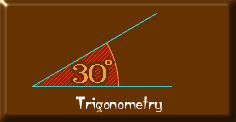 Trigonometry 1
Subject 1: The trigonometric functions in a right triangle.
Level 1 : Express SIN a, COS a, TAN a by means of the sides
Level 2 : Using the inverse functions
Level 3 : Checking identities
Subject 2: The law of sines and the law of cosines.
Level 1 : Solve a right triangle
Level 2 : Solve a right triangle with parameters
Level 3 : Solve a triangle by using the law of cosines or the law of sines
Level 4 : Calculate part of a triangle or a shape.
(C) Copyright 2000 MathKal Educational Software Ltd.